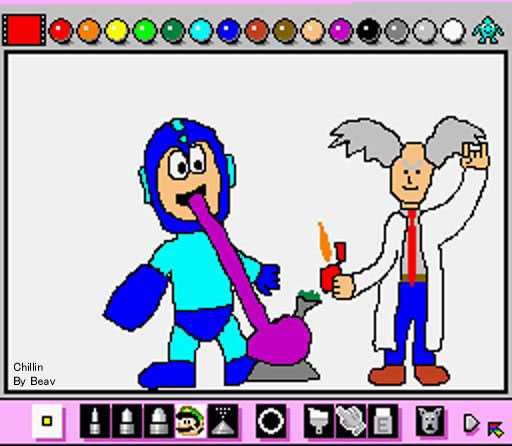 6/1/2006 - DevSter Specialties, the Store!
Hello everyone! I've set up a CafePress store, where T-Shirts related to the stuff you see on DevSter Specialties will be sold (eg: BasiEgaXorz t-shirts). GO check it out for yourself by clicking the

picture on the side of the site. Prices are a little high (I mean, these are just t-shirts =P), but I'm trying to raise money to buy some electronic parts for upcoming projects :D.

3/14/2006 - lewisbassett: Devega
To everyone: Devega has moved! They're now conveniently at: http://www.sega-devega.net.

3/14/2006 - haroldoop: Developing Sega Master System ROMs in C
For all programmers out there, Hardoloop has been working on adapting z88dk, a C cross-compiler for Z80 systems, to generate Sega Master System ROMs. More info can be found in this link. Programming in C for the Gameboy's Z80 worked out great, so doing it on the Master System should be real promising :D.

2/14/2006 - BasiEgaXorz
A new version of BasiEgaXorz is out! The newest and latest version is v0.21, which is a GUI upgrade from v0.19. All commands and functions are the same, and the BasiEgaXorz package comes with an installer EXE now :D. Go get it at the BasiEgaXorz page

2/10/2006 - SNASM
Snasm68k is now available for download from my site, if ya need it =P (no longer have to go to zophar's to download!). You'll need snasm68k to compile the FM test for the beta of the DevSter Noise Machine, and also for BasiEgaXorz. I'll also try to convert the manual for snasm68k later on.

2/9/2006 - DevSter Noise Machine
Muwahahaha! The new DevSter Noise Machine Tracker Beta #1 has been released, joy! You can get the new beta here. This is a very limited beta, and I haven't even tested it out myself yet =P, so you're going to have to figure it out on your own (for now, until tommorow maybe =P).

1/30/2006 - The new High Quality pics
are up on the SNEC project page. You can get to the HD pics here.

1/14/2006 - X-Monster Z80 Power!!!
New updates to the status of this project. Check it out at the project's page. Also, there are no ads, never have been any ads (okay, excpet for the netfirms thinger), nor will there be any ads on DevSter Specialties =D!

1/5/2006 - Starting off with 2006...........
Happy New Years Everybody!! Hope everyone gots some cake, and new video games (sell the video games x.x)!!! I gots some cool props 'n stuff for y'all. yo yo yo, check it, whicki wicki wicki. I've recently created a PC out of a SNES case to play SNES games on, called the SNEC (C replaces the S, and stands for computer, 0.o!). Go check out the project page: SNES PC Conversion. The pictures for this conversion is also located in the pictures section of this site. Oh yeah, what else was i sayin about 2005? 2005 is gone, over, just dust in the wind -- find all the news archived from 2005 in a seperate page, along with sexie bill gates.





View News Page From 2005!!!





View News Page From 2004!!!



View News Page From 2003!!!