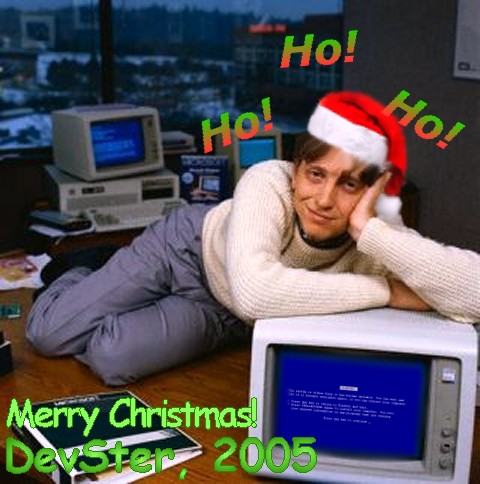 It's Chrsitmas!!
Remember everyone, DevSter Specialties has been recently moved to http://devster.monkeeh.com/ !!!

12/8/2005 - Radica hacking info page created
Because all the Radica hacking info is in the forums, and are really hard to find, I made a web page that organizes it all. The stuff contained here is all from my contributions, I need more info so send me some!!

12/7/2005 - Website moved
website has been moved over to monkeeh.com, my own personal domain :)

11/17/2005 - As seen on devster's site!!!
In breaking news: a band spanking new Z80 project of mine has been added to the Z80 section for all you Z80 lovers Power !!!

10/12/2005 - News For Today
Hi! Sorry, I have nothing for you. Oh, have a nice day =D, and be sure to tune in some other time =D.

8/17/2005 - Quick Adventure Status
The Sega Genesis quick adventure maker is almost complete! The only things that need to be finished are projecttiles, and the save menu. Here's a sample game made from one of the example adventures. I've implemented FM sound using the new tracker and driver, which has yet to be released.

8/5/2005 - 80C42 and 80C41 Microcontroller Info.
Discover that the 8042 is not just a keyboard-interface microcontroller for the PC, and that the kayboard firmware can be bypassed to run external code. 8041 and 8042 controller technical information can be found somewhere on the EE page (link).

7/26/2005 - First Ever ImaGenesis Update is Out
That's right boys 'n girls, the feature packed image quantizer and tile converter has upgraded with even more super cool features! Although this version is being released as a beta, there are still many improvements upon the original version that many users begged for. Get the newest and lastest version on the Imagenesis page. Dun be shy! - Feel free to report any bugs on the forum.

6/21/2005 - What everyone's been wating for:

, Update!
The version number of SGTD has been cranked up from v0.03 to v0.46 with the help of many added features. In a nutshell, there's now support for opening+saving, multiple tiles, and other little things. Git 'er at the SGTD page.

5/19/2005 - Say what? The front page loads faster?
I deleted all the news from 2003+2004 =), j/k. All news from years 2003+2004 are archived in seperate pages that can be located at the end of this page to make loading "faster." I should be releasing a new update of basiegaxorz, and some other updates to the other pages (from news only found on the forums) soon!

5/17/2005 - haroldoop: Genesis RPG Creator 0.05 alpha
Haroldoop has released a new alpha version of Genesis RPG Creator. It's still far from being complete, but it can already output a fully working Sega Genesis ROM. Note that the current version is mostly a preview, and only supports a single map, a single tileset, and no object placement.

4/7/2005 - BasiEgaXorz v0.26 Fan Beta
Go here !!

3/19/2005 - Tom Maneiro: GenRomSuite 2.8.2
Here it is, a new GenRomSuite version. It just has a minor check added to SMD2BIN converter. Grab it here

2/10/2005 - News as Wide as the Panama Canal
Here's an easy release: freeware legal bios files for emulating the 32x. It should play all the games that run on the actual 32x hardware, although I haven't tested Sega CD 32x games. It only took me an hour to make everything, so joy, download it here

2/1/2005 - Posted by CDoty: Frog Feast
CDoty has started development on a Frog Bog clone for the Genesis called Frog Feast. He's not sure how far he'll get with it, but hopefully a Sega CD and cartridge version will be finished. One big problem area will be music.

1/28/2005 - GensRomSuite v2.8.1
Time for an update: just 2 minor bugfixes an a Chinese translation, courtesy of DarkDancer. Also, he created a Chinese homepage for GenRomSuite. The site is located here

1/20/2005 - GensRomSuite
It's time for a new version, v2.8, with some CRITICAL bugfixes. Go and get it here

1/16/2005 - StickBoy
Yeah yeah yeah, like I said, a Sega Genesis future release =D, now go find yor clothes XD. Download the BeTa

1/11/2005 - Tom Maniero's 5 cents of the site
GenRomSuite has been upgraded to version 2.7.5! There are only a couple of minor bugfixes: a Launcher fix for better Fusion compatibility, a bugfix in the Header editor for detecting region/device codes, and a new Xega icon in launcher. Get it Here!

1/4/2005 - First newz of 2oo5
HAHA, I have nothing! Updates for BasiEgaXorz have been postponed because i'm going to be releasing some hardware =), a BasiEgaXorz dev kit. This is tentative, depending on whether I feel like ordering the parts =P. Also, I did the dot clock test on the genesis, you can see them in the pictures section.




View News Page From 2004!!!



View News Page From 2003!!!